Hello, guys!
Thank you for visiting IWHP's blog again!
I am finally better from having my first cold of the year.
I felt like I had had it for a year…
However, during that period I've been busy helping new students, having meetings and answering new inquiries.
Anyway, today's topic is….
Old students who have finished and the new students who have arrived!
WELCOME AND FAREWELL
Last week Minaho finished her studies with us after a period of three months.
Her and another student, Ru, were introduced to us by one of our old students, Ayano(Little I). All three of them had met on the island of Ishigaki last year while working in a hotel!
As they wanted to travel to Australia Ayano had suggested contacting us to help them with advice and to suggest suitable choices of accomodation and studies for them.
ACCOMODATION AND STUDY
Minaho chose Homestay for 4 weeks accommodation with one of the families we use. The couple are a little older compared to some of the other families we have and make there homestay students feel warm and welcome on arrival
Ru chose Demi Pair for 12 weeks. This involved her looking after two girls aged 7 and 10 during the week as well as housework.
Their study period was 12 weeks plus an extra 2 weeks free because of one of our specials called Friendship Introduction.
Minaho finished earlier as she has temporarily taken over an Aupair position from one of our older students, Yoshie, who has gone back to Japan for 2 months. However, she will come back after the 2 months to finish off the last of her study time
The difference between Aupair and Demipair is that Aupair is a full time live in nanny position, where as Demipair's work period is only 20 hours per week.
ARRIVAL
On arrival we picked them up from the airport and took them to their new homes for the next 4 weeks and 12 weeks.
At the beginning Adam (the teacher) found them to be very shy in nature and would whisper and giggle a lot to each other. One enjoyed studying while the other was very new at English and found it difficult to focus at the beginning
However, with Adam's funny and annoying character (He calls it "Funnoying"), it didn't take him long to turn them into two very noisy confident young woman who laugh a lot, study hard and believe in themselves.
END RESULT
Minaho works Monday to Friday as an Aupair and works on the weekends at a carwash. As for Ru, her Demipair family has enjoyed having her that she has been able to extend her time with them by two and a half months. She is currently looking for a part time job after she finishes her studies.
FUTURE PLANS
Both Minaho and Ru plan to go to a farm have fun and get their second visa, and we wish them all the best.
And we have another student who graduated, Tomo!
ARRIVAL
Tomo had made no plans before coming to Australia, including accomodation.
When he arrived, he booked into a backpackers, searched for a sharehouse and just walked into our school and applied for the English and Farm job program.
My first impression of him was he that he was very young, quiet and shy and I was worried about him a bit. However he turned out to be a confident and talkative person with an easy going character.
Tomo got along with the other classmates so quickly!
He is very good at taking photos and editing a film, so he ended up being our private photographer.
He studied very hard and enjoyed using his English as much as he could.
END RESULT
Tomo bought a car to travel around Australia as well as for getting to the farm job.
When I look at him I see him as a very relaxed person who is no hurry with his life and has no reason to stress.
I think he enjoys every moment he is there.
To be honest, most of the working holiday makers tend to be in a hurry for something and once they start doing it they want or expect a result quickly.
It's not only good bye! We have new students arriving!
Recently we've been very busy with short term students and parent and kids study students.
However we have welcomed Natsumi who started her Demi Pair and English course last week as well as Ami who started at IWHP this week. We look forward to helping them with their new life in Australia and watching them grow with their English.
New students always make the classroom's atmosphere change.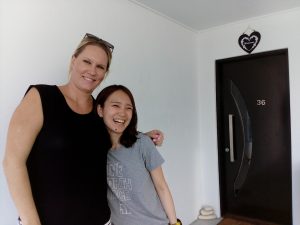 This picture is Natsumi with her host mother at her new home.
Hope she will enjoy her Demi pair and Australia life.
We've been getting a lot of inquiries from LINE app recently.
If you have any questions, it doesn't matter how big or small, please do not hesitate to ask us anytime!
WORD FROM THE TEACHER
Have an Open Mind : To accept new ideas
When travelling to another country always go with an open mind. In most countries what people might eat, say, wear or do may shock you, but to them it may be completely normal.
So always go with an open mind.
That's all for today! See you later!