Hi Everyone!
Thank you for visiting I.W.H.P's blog again!
The road trip blog has stopped for a while because we've been busy for our new students.
Gold Coast's weather has been unstable.
One day is hot but another day is cool.
We are having a special right now.
Don't miss it! It won't last!
Anyway, we are going to share about our student's road trip again.
Today's story is Day 9!
Here we go!
Day 1
Day 2
Day 3
Day 4
Day 5
Day 6
Day 7
Day 8
This is a road trip story which these 4 students decided to do from Gold Coast to Sydney and Melborne in Yoda's little Mitsubishi Mirage.
[voice icon="https://www.iwhp.net/wp-content/uploads/2017/09/musashi.png" name="Musashi" type="l"]Crazy Animal and Movie lover who eats a lot.[/voice]
[voice icon="https://www.iwhp.net/wp-content/uploads/2017/09/minion-2687629_640-e1504693651563.png" name="Kojirou" type="l"]Musashi's buddy. Sometimes she shuts down and her mind goes somewhere.[/voice]
[voice icon="https://www.iwhp.net/wp-content/uploads/2017/09/lady-1163646_640-e1504693624616.jpg" name="Samba" type="l"]Used to be a nurse in Japan. Typical Japanese girl.[/voice]
[voice icon="https://www.iwhp.net/wp-content/uploads/2017/09/yoda.png" name="Yoda" type="l"]A crazy guy who came to Australia with a small backpack with little clothings.[/voice]
[voice icon="https://www.iwhp.net/wp-content/uploads/2017/09/S__3612731.jpg" name="Mitsubishi Mirage" type="l"]Most important item for this trip.[/voice]
<Day 9>
[voice icon="https://www.iwhp.net/wp-content/uploads/2017/09/yoda.png" name="Yoda" type="l"]Today's writer is Yoda.[/voice]
8.00 woke up.
We stayed at the BIG4 caravan park in Traralgon whicha is a very geen town.
We expected to have another cloudy day, so we put a tarp (Rain cover sheet) over the tent.
Because of that, we didn't notice the heavy rain and slept very well.
It was hard work to put the tent away after the rain, but it was going to be a big day today so we packed away quickly.
We left the park as we beared the cold morning.
Our next distination was Phillip island, which is we wanted to go the most.
It is located in the Southern Past of Australia, there are many natural sanctuary and also we can get close to the wild animals.
The most populer thing about this island is you can watch wild Fairy penguins (Little penguins).
Many local people visit there because it is just 2 hours from Melborne city.
It takes 2 hours from Traralgon. It was nothing compare to the driving I have before. It's gone so quickly while I was watching the beautiful scenary. But we saw big cloud the direction we were going. It didn't look good.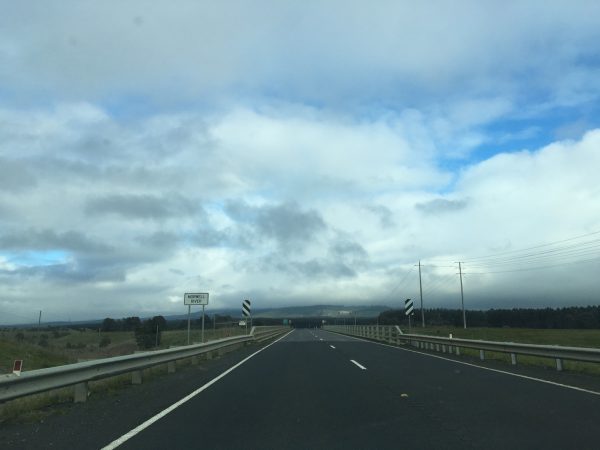 It started raing when we just got into the island.
Musashi was very dissapointed because she was looking forward to going there so mcuh.
We visited Phillip lsand Chocolate Factory first.
This is not only a Chocolate factory but also you can book a tour around the Factory and they also have a cafe and gift shop.
We didn't go on the tour because we had to save our money, but we had a look inside the gift shop and something caught my eye…it was a delicious chocolate cake in a showcase.
I don't need to tell you what happened next.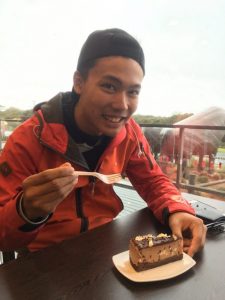 After the factory, we headed to Madcowes cafe.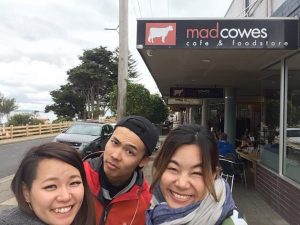 The Travel website "TripAdviser" told us this cafe is the most popular one on Phillip island.
Musashi suggested to go there but she doesn't drink coffe and also she can't eat eggs.
Most of the food has eggs so she couldn't eat anything. What a pity.
I had a coffee and chips. It was delicious.

(Musashi was checking Kojiro's burger to see if there were no eggs in it.)
She orderd a burger and chips and ate lot.
After that, we walked along the beach.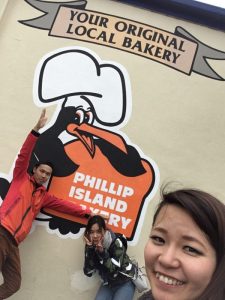 Browsing…
We spent a relaxing time there!
There are a lot of places to visit on Phillip island!
We're not finished yet.
We went to the edge of the island called Nobbies Center.
It is the end of Phillip island but this island is very small so you can go around the island in 1 hour by car.
This place was only 20 mins from that cafe.
This is like a zoo for South Pole animals.
This is also a sightseeing spot and there is a cafe, gift shop, museum, and look out.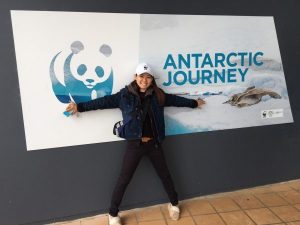 We still had time so we went to the museum.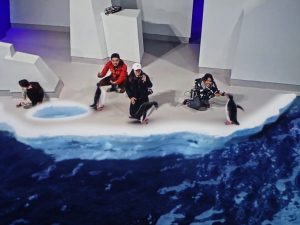 Musashi was so excited again and she bought a tourist cap,
everyone thought it was not cool.
Somehow, when she wears it, it looks cool.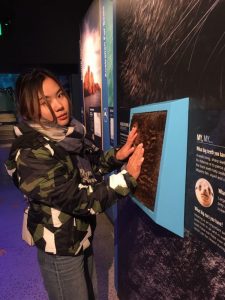 We went to a look out and that has a good view if the weather is good.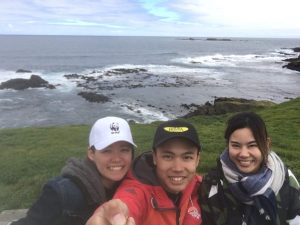 If you are a lucky, you can see sea lions but we could only see the clouds.
Anyway, we headed to our accomodation for the night!
We thought it was going to be bad weather so we booked a hotel this time! How clever!
We took for granted for clean beds, toilets and bathrooms before but now we are thankful for that!
You could find our room so easily. We dried the tent outside.
After checking in, we had time but Kojiro was exausted from our hard schedule these days.
So she decided to rest at the hotel and me and Musashi went for a walk to the beach.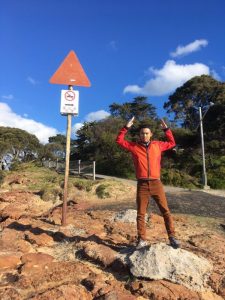 At nearly sunset, penguin parade which Musasi was really looking forward to the most was going to start soon. It was near Nobbies Centre, 20 mins from our Hotel.
We arrived 10 minutes before starting and waited for them.
Guess where we were.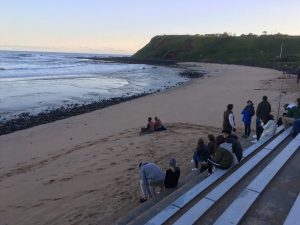 Yes, we asked the staff where the best place to sit down was and waited there.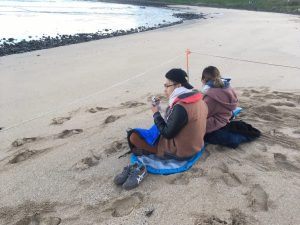 We brought our sleeping bags and waited so patiently.
I guess we looked stupid, but we were serious.
Anyway, it's called Penguin Parade but we can not feed the penguins and the penguins don't balance themselves on a ball. We just watch that them walk home to their nest.
We waited for 2 hours and finally we saw 2 little penguins suddenly.
They were very tiny so we thought they were still babies but they were adlut.
(We were not allowed to take photos so we couldn't show you any photos of them unfortunately.)
I've never thought it was such a precious time to see the wild animals before.
The penguins were so close to us and we could nearly touch them.
They were so adorable marching together and caring for each other.
I felt this is the real mother god thing.
This was going to be such a good expericence for me and for the girls.
I was very happy to travel with my good friends and get in touch with Australian nature.
But it was a secret that Kojiro and Musashi were more excited to watch the penguins mating than the penguins parade. Lol (Musashi said I was the most excited one. )
It was a looong day. Even I thought wheather it was one day or not.
We are going to Melborne CBD! See you!
<Today's accommodation>
The Continental Hotel Phillip Island
5 The Esplanade, Cowes VIC 3922
(03) 5952 2316
https://goo.gl/maps/DgVkaMGVw7R2
<Today's destination>