Hello, guys!
Did you have a good Easter holiday?
We would like to share a review from one of our students who came to Australia with her kids 2 weeks ago!
She stayed for 10 days on the Gold Coast and studied with us for a week.
Here is the review from her! (Japanese only)
Akari who is the owner of this company and also agent, has introduced her customers, especially Mothers to us for a few years.
She has a lot of experience in this field and works accurately and quickly.
I also really enjoy her working style as well.
Anyway, if you are interested in Parents and kids study, I recommend you ask her, Akari can take care of you if you are also interested in studying English and not only for your children.
Anyway, back to Mutsuko.
Her main purpose was to let her kids join a Kindy in Australia and experience life in a foreign country. And also , she wanted to have her own experience through studying English.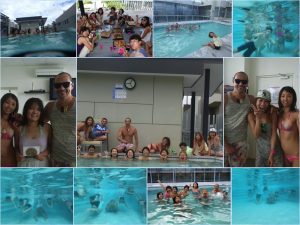 She is such a powerful and bubbly woman!
And she didn't look like she had 2 children!!
Her character made everyone bright and energetic.
She could get along with everyone even though it was such a short term.
Some parents hesitate in the classroom because most of our students are mid 20s  to early 30s and come on Working Holiday visa. But, she enjoyed herself so much and never seemed to feel out of place between herself and the other classmates, because of being a mother.
She laughed and joked with everyone as if they were old friends.
In her review, she said she wanted to talk with people from all over the world, make friends, listen to their stories and sometimes girls talk.
From the Japanese on a Working Holiday, she wanted to know why they came here and listened to  their future dreams.
She is very positive person so she seems to get a lot of new ideas from everyone which she couldn't get if she was in Japan and worked as a Mom.
I was happy to hear that and I also got a lot of energy from her!
We are now friends on Facebook and she looks energetic even more!