Hi everyone!
Thank you for visiting IWHP blog again!
We have had a such a warm winter here on the Gold Coast!
We would like to announce our special today!
Our Facebook page has reached 500 Likes.
We would like to say thank you and with a special deal!
One of our popular program is the Demi Pair placement fee, is $550! $220 discount!
You can start your English course and demi pair program anytime but this special will last only until the end of September!
If you have any questions, please feel free to ask us!
Speaking of Demi pair, we would like to introduce more Demi pair and IWHP reviews.
This is from one of our old students, Mami.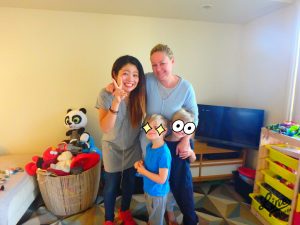 The reason why you went abroad on a working holiday
The work place I was working before was too busy and I just lost track of my time everyday. Should my life stay as it is now? I thought that was the trigger. I heard that my senior workers at my work place went to Australia on a working holiday.  It was the first time to hear about Working Holiday. I have been interested in foreign countries for a long time, but I could not speak English at all, so I never thought that I would be able to go to another country.
My senior workers told me that it is better to make an action whenever you can if you want to do something. They also told me you can do it only while you are young!
I was cheered up and decided to make an action★
What is it like to live in Australia/ Gold Coast?
I went to Cairns, Melbourne and Gold Coast.  I think the people on the Gold Coast are very kind people!
When I was walking down the road and 98% of the people passing by me said hello to me(lol)
On the day I came to Australia, someone helped me to carry my carry case?
The reason why I chose a Demipair program
Because I like children and demi pair would inevitably help me to talk with the family in English. I thought that I could study and become more intimate!
What was your family like?
My host mother looks energetic and strong, but her heart is delicate and she sometimes cried for me. The children are very cute boys, 6 and 4 years old! I always enjoyed play fighting and hide and seek! They asked me "How do you say in Japanese?" They taught me English and I taught them Japanese!
I was happy to be treated like a real family member.
Daily work details
In the morning, I prepared the kid's breakfast, told them to got dressed when they get up and put the lunch box and water bottles into their bags.
When I came back from school, I made the kid's lunch for the next day. (They were easy things like spreading jam on bread and cutting fruit)
After that I did the laundry and cleaning etc.
I supervised them when they had a shower and help them to put on pyjamas.
It was not so hard because I was told to tell them to do it by themselves so I was just a small helper.
What was the difficult time of Demi pair?
At first I could not speak English at all, so I just listened to what I should do. I communicated with them using interpreting apps. But my host mother taught me gently, changing grammar and using gestures!
One point of advice to everyone who wants to do Demi Pair / Working Holiday in the future.
Even if you do not speak English well but if you work hard, you will become close to children, they will open up their mind as well. I was able to build a valuable experience that I could not do in Japan and a bond with my family. I highly recommended Demi Pair program!
Testimonial of IWHP
I couldn't speak English when I went to Australia for the first time.
And I hated English when I was in Junior high school.
But Thanks to my teacher I became to like English.
Adam is such a funny teacher and I love his lessons.
The best teacher I have ever had in my life!I am glad that I could meet IWHP.
Living in Australia for 7 months was an awesome experience in my life because I did and experienced many things that I would not have done in Japan and have got many friends and special memories.
Thank you so much ★
Her nickname was "M & M" with her demi family and "Michel" with school.
She had such a big smile and was always smiling.
Her senior worker used to study with us so she heard about us from her and came to Australia.
She stayed at a back packer first and then visited us.
She was interested in doing demi pair so we arranged a family for her.
As she was saying in her review, her host mother looks a bit strict.
I worried if they could get along with each other but she became a part of their family.
They helped each other so much and Mami stayed with them for 7 months!
After graduating school, she got a casual job and also did eye lash extensions for her friends and customers.
She had a distant relationship with her boyfriend in Japan but she decided to make her dream come true.
Everyone told her that she should stay in Australia longer but she kept her first plan so she traveld around Australia and then went back to Japan.?
She has a warm heart and always kept her smile.
If she couldn't speak English, she could do so much with that smile.
I hope we can see each other again soon in Japan or Australia????
Thank you for studying with us and all the best for you!
Thank you for reading this blog today again.
If you are interested in IWHP, please feel free to contact us!
Look forward to hearing from you!