Hello, everyone!
It's been raining…raining….grey day…raining…on the Gold Coast☔☔
And it is really dog and cat rain!
We can't go anywhere when it rains….
We were supposed to have a BBQ at our place on Saturday but
it was rain. so we had a Roast Chicken inside of our house.
Adam is good at cooking so if you are lucky, you will be able to try his food?
Anyway, we are going to share about our student's road trip again.
Today's story is Day 6!
Here we go!
Day 1
Day 2
Day 3
Day 4
Day 5
Day 6
Day 7
This is a road trip story which these 4 students decided to do from Gold Coast to Sydney and Melborne in Yoda's little Mitsubishi Mirage.
[voice icon="https://www.iwhp.net/wp-content/uploads/2017/09/musashi.png" name="Musashi" type="l"]Crazy Animal and Movie lover who eats a lot.[/voice]
[voice icon="https://www.iwhp.net/wp-content/uploads/2017/09/minion-2687629_640-e1504693651563.png" name="Kojirou" type="l"]Musashi's buddy. Sometimes she shuts down and her mind goes somewhere.[/voice]
[voice icon="https://www.iwhp.net/wp-content/uploads/2017/09/lady-1163646_640-e1504693624616.jpg" name="Samba" type="l"]Used to be a nurse in Japan. Typical Japanese girl.[/voice]
[voice icon="https://www.iwhp.net/wp-content/uploads/2017/09/yoda.png" name="Yoda" type="l"]A crazy guy who came to Australia with a small backpack with little clothings.[/voice]
[voice icon="https://www.iwhp.net/wp-content/uploads/2017/09/S__3612731.jpg" name="Mitsubishi Mirage" type="l"]Most important item for this trip.[/voice]
[voice icon="https://www.iwhp.net/wp-content/uploads/2017/09/musashi.png" name="Musashi" type="l"]Today's writer is Musashi.[/voice]
<Day 7>
[voice icon="https://www.iwhp.net/wp-content/uploads/2017/09/musashi.png" name="Musashi" type="l"]Today's writer is Musashi[/voice]
At Bombala it was stormy last night and the next morning.
It was the coldest day so far. I couldn't remember how many times I woke up last night.
My body was sore. And it was drizzling.
Everyone who we met at the park asked us why we stayed in a tent and it was cold.
Yes, there were only camping cars around us. We were the only people staying in the tent.
We beared this freezing night with our cheap K-mart tent!!! Thank you, our tent! You did very well!
I told you the last time that Australian caravan park's reception are closes very early. It was closed when we arrived this time, but we booked by telephone before so we could choose any place to set up our tent. If nobody's at the reception in the morning, they said just leave the money at the front.
We slowly packed our stuffs away and it was already 11.00 am.
This bombala caravan park is not strict about and a leaving relaxed park.
Anyway, today is a long driving day! We thought it we were ready to departure but Yoda took something from his pocket. It was a pamphlet for a platypus sanctuary!!
We were so excited and headed to that sanctuary! It was only 15 mins from our caravan park.
According to the pamphlet, you can see them anytime but the best time is the early morning and afternoon. It was after 11.00 when we were there….so we wondered if we could see them…we got nervous. We were so excited to see them…we waited for a while…but they didn't show up….
"We didn't need anything else if we could see the platypus today."
That's what we felt like at that time.
I realized if we were talking loudly, the wild animals don't want to show up!
It is natural! If I was a platypus, I wouldn't want to get close to those 3 crazy people!
So we decided to wait quietly. We sat separately, Kojiro sat and watched the left side, Musashi was in the middle and Yoda was on the right side.
As soon as we sarted to watch, Yoda suddenly screamed and pointed at something. It was a platypus!!!! We should've been quiet from the beginning!!! It was easy to find them!


Our excitement reached a very high point!!!
But Musashi forgot her glasses in the car so she could only see just a black thing. It was very dissapointing for her. And the sheep near us ran away from us. It hurt me a lot, too.
The Platypus came out a couple of times after that, but it started raining, so we left that place.
I couldn't have that feeling anymore.
We saw a lot of sheeps again so we decided to go closer. When we got closer to them, they ran away again!!! It hurt me again…We weren't over again but the sheep ran to the area where we were before…..we decided to take some photos from our car.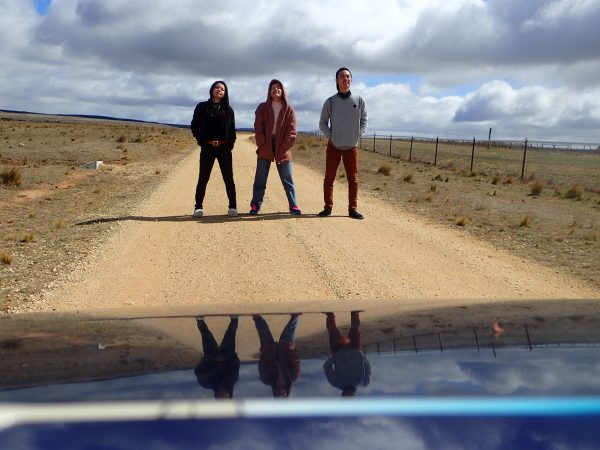 Australia can be a good place to take photos anywhere.
It was already 15.00. We parked our car and had sandwiches for lunch.


This is typical Australia but we can also be professionals at the BBQ!
BBQ cookers are everywhere in Australia, even in a park, so it helps us budget travellers a lot!
Ok, here is a small tip for BBQing. A Steak knife is the most important item!


I stole this idea from our school BBQ parties. This knife is amazing! I read a lot of blogs that Australian knives are not sharp enough. So this is a good item!!!
You can cut easily and it is also very light and Small to carry!! You should have this one at least!
And you will be ok if you have plastic cups, forks and plates, tin foil and dish washing liquid!
The tin foil could be a paper plate if you run out of plates!
Restaurant food is expensive here so it is nice to be able to eat hot food from a BBQ!

We could handle this cold night so we were a confidence to sleep in the tent tonight!
We felt like we could sleep anywhere compared to the last night.
We had had a late lunch so we were not hungry, We set up the tent quickly and had a shower.
I thought I could have a good sleep tonight but I felt hungy all of a sudden.
I start to get angry when I feel hungry or run out of Coke.
Kojiro pushed me to go to my heavenly place, "Macdonalds" so Yoda drove me.
Yoda had big mac, too. Kojiro didn't come with us. Yes she is very cold person.
We were happy and full and went back to where we came…but I realized…he was driving in the opposite direction!!!! Yoda has no sense of direction. As soon as we got back to the tent, Kojiro's eyes said that luckly she didn't come with us.
We had enough small coins so we could wash our clothes with the washing machine. Good night.
<Today's accommodation>
BIG4 Traralgon Park Lane Holiday Park
5353 Princes Hwy, Traralgon VIC 3844
(03) 5174 6749
https://goo.gl/maps/7uSMy2agPG72
<Today's travel distance>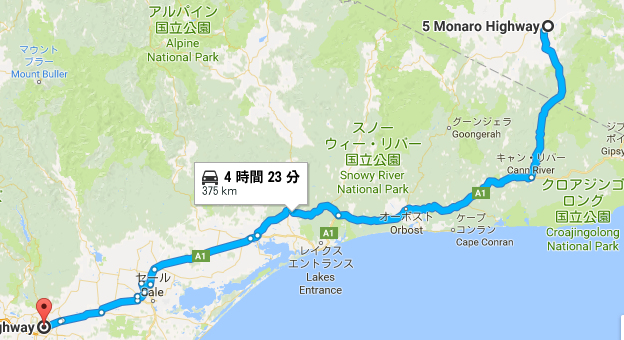 Wow!!! It's 8 days already! 4 more days to go!
They are nealy Melbourne!!!
Go, go Yoda! Go, go Mitsubishi Mirage!!!
Ayano's instagram: iwhptokyo_aya
Hiroko's instagram:hirocole411
LINE ID : @xwa7468s
Thank you for applying in Oct and November.
We are till looking forward to seeing you from November to December.
Why don't you try our homestay as well!
See you!!!!