Hello!!!
Thank you for visiting IWHP blog again.
It was hot day again!
Some of the places in Australia reached over 40 degrees!
It is only September….I can't believe it.
But it is nice!
Ok, it is half way of their travel.
Today's story is Day 5!
Here we go!
This is a road trip story which these 4 students decided to do from Gold Coast to Sydney and Melborne in Yoda's little Mitsubishi Mirage.
[voice icon="https://www.iwhp.net/wp-content/uploads/2017/09/musashi.png" name="Musashi" type="l"]Crazy Animal and Movie lover who eats a lot.[/voice]
[voice icon="https://www.iwhp.net/wp-content/uploads/2017/09/minion-2687629_640-e1504693651563.png" name="Kojirou" type="l"]Musashi's buddy. Sometimes she shuts down and her mind goes somewhere.[/voice]
[voice icon="https://www.iwhp.net/wp-content/uploads/2017/09/lady-1163646_640-e1504693624616.jpg" name="Samba" type="l"]Used to be a nurse in Japan. Typical Japanese girl.[/voice]
[voice icon="https://www.iwhp.net/wp-content/uploads/2017/09/yoda.png" name="Yoda" type="l"]A crazy guy who came to Australia with a small backpack with little clothings.[/voice]
[voice icon="https://www.iwhp.net/wp-content/uploads/2017/09/S__3612731.jpg" name="Mitsubishi Mirage" type="l"]Most important item for this trip.[/voice]
<5 days>
[voice icon="https://www.iwhp.net/wp-content/uploads/2017/09/yoda.png" name="Yoda" type="l"]Today's writer is Yoda..[/voice]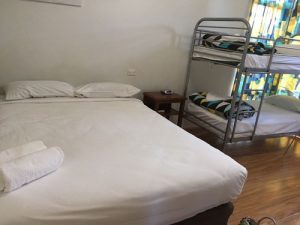 The sunshine from the window, was too comfortable to get out from the bed.
We finished sleeping in the tent, and then we are at cabin.
Musashi came back from morning walking, found a "Free Zoo" and was so happy.
We had leftover dinner from last night for breakfast, we checked the car and headed to the "Blue Mountains".
This is the place Samba wanted to go.
It took about 1 hour from our caravan (near Richmond ) to the Blue Mountains.
Musashi was excited to see the horses on a farm from the car and me and Kojiro who were in front couldn't stop screaming at the crazy Aussie drivers.
We saw a small town 5 minutes away from our distanation.
We bought some stuff for ourselves. I bought some socks from BIG W and Musashi bought UGG slippers (They were just $10).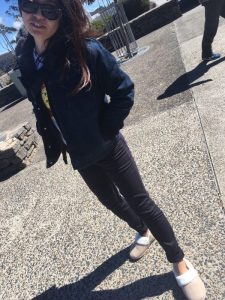 We joined Samba and Kojiro who had came back from Woolworths
As soon as Kojiro saw us, she said to us that " These biscuits were dead."
She gave us the ARNOTT biscuits which she had dropped on the floor as soon as she bought them.
We laught a lot and ate the biscuits.
Everyone became strong, didn't we!?
We left the town and arrived at one of the famous sightseeing places called Jamison Valley, where we could see 3 big rocks called "Three sisters".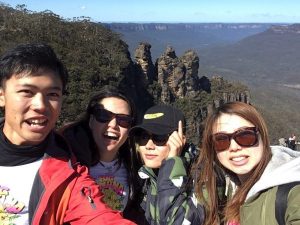 We parked the car at a paid parking and were impressed with the dynaic scenary.
And of course, we took a lot of selfies.
We tried to walk the tracks course going close to the rocks, but it was nealy times up for our parking. So we rushed back to the parking area.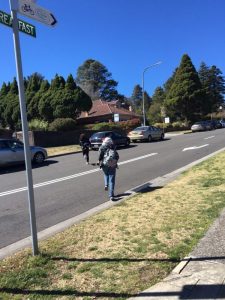 We had been excited since seeing the beautigul scenery,and we went to the next distination called Scenic World. There were 3 types of cable cars and ropeway and people could go up and down the mountain. But we were not happy that the1 day ticket was $39.
So we didn't go on that, and just browsed around the souvenir shops.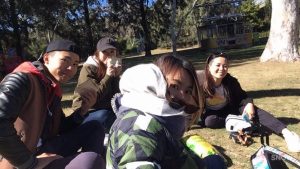 We had a picnic lunch at a park. Kojiro and Samba made sandwiches for us. And they were Delisiouse. Musashi was trying to feed the pigeons. I thought they would bite her.
We spent a lot of time together but when our journey finishes, everyone is going to different places.
This is the real Woking Holiday life. It is a good point and also a sad point.
Let's catch up again, everyone!
I drove our car to our next distination called Wentworth falls which is 15 minuites by car.
There is a huge waterfall there.
Samba said "Wow, it looks like a waterfall!!". Yes, it is a waterfall, Samba!!!!!
Musashi was excited to see a big reptile monument again and she has energy so much.
She didn't stop walking.
The more we walked, the more it got colder but the water fall was amazing.
It took 1 hour both ways.
We went back to the accomodation and after dinner, we had a farewell graduation for Samba.
Yes, this was the last night for her and she is going back to the Gold Coast.
We sang a song for her and gave her a gift.
Samba laughted a lot because she was so impressed.
We took a lot of photos with Photo apps until late into the night.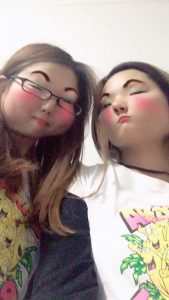 To be continued……
<Today's accommodation(Same as 3rd day)>
Ingenue Holidays Avina
227 Commercial Rd, Vineyard NSW 2765
<Today's travel distance>

Oh no….Samba is going to leave soon.?
It must be hard to say good bye to friend when they are always together…
I am happy that they get along with each other so much even they graduated school.
Anyway, it is good and sad pard of Working Holiday, isn't it!?
But I believe we can catch up again somewhere if we believe so.
Ok, that's all today!
Good night?