Hi, everyone!!!How are you?
We have cloudy sky on the Gold Coast and it is very muggy today.
Thank you for visiting my blog.
This blog talks about something about Australia, Gold Coast, Working Holiday and so on.
We had a surprise guest last Friday!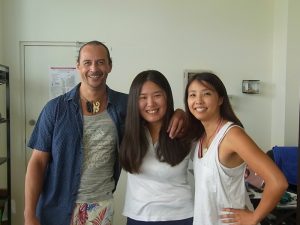 She was a student who graduated 2 years ago.
She's done Working Holiday in Australia and then went to NZ for 1 and a half years.
I heard a lot of stories from her and she really fell in love with New Zealand.
Japanese don't know much about New Zealand and normally people go back to their country when they finish Working Holiday without going to NZ even though.
New Zealand is very close to Australia. The good thing is you can start another Working Holiday in NZ as well.
So if you don't want to go back or don't want to go anywhere else, you can choose New Zealand as one of another opportunity!
She told me New Zealand was very beautiful country and the people were as well.
Everyone is very helpful even when she was travelling around NZ by herself. So she didn't have to worry about it much.
I felt the same way as well.
When I visited Adam's family, I felt New Zealanders are more friendly and kind.
The scenery in New Zealand is beautiful and everything picturesque.
I was also happy because her English has improved even more.
I remembered one time, she tried to navigate us around Noosa Sunshine coast (School 2 days trip), She was supposed to say "Over the bridge!" but she kept saying "Bridge over!". lol
She also texted to her friend, "Pacic far" instead of "Pacific fair"(Shopping centre).
But now, she speaks her English quite well!!!
She said to me she has no idea what to do when she goes back to Japan but shewill probably go back to New Zealand again as a student.
I like that idea as well because she doesn't have to worry about what she should do next, she is just following what it is right for her.
Anyway, she is now in Australia again and going to travel around Australia and Asia before going back to Japan.Again, we were really happy to see her and hope all the best for her as well.