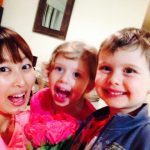 1.Why did you choose Gold Coast?
I've been here twice before. I thought Gold Coast isn't as busy sity as Japan and many kind of people live here. Also I like beautiful beach and good weather so I wanted to live here.
2.What was the reason to bring you to overseas?
I like abroad. I wanted to try living abroad, making friends all of the world, improving my English and communicating with various people in English. My life is only once.
3.Why did you want to be a Demi Pair?
I like children and I was a nursery school teacher in Japan. I wanted to become DemiPair in English speaking country. But I couldn't communicate with English well and I didn't have brave. Even if I worked in Kindergarten in Brisbane as a volunteer staff before. I realized that I want to communicate with Australian children more and I want to know about their life style and how to educate them in a family.
4.What was the difficult thing as a Demi Pair for you?
Nothing Special.
But, my bed was bit damped and too soft.(It was not good for me because I have a lower back pain.) House dust and food culture shock between Japan and Australia.
5.What did you do on the weekend?
Going to the beach, shopping , BBQ , yoga, go drink, sightseeing, fishing…..with my friend
6.What was your Demi Pair work for a week?
Every morning: Empty dishwasher.
Everyday: Make children's beds, Tidy rooms, washing lunch boxes and bottles, Clean up kitchen, floor, wipe bench…etc after dinner. children-play, read, game…etc
Mon: Vacuum and mop. Clean pantry and Fridge.
Tue: Project. Wed: House clean(wipe down) walls, tables, dust…etc
Thurs: Vacuum and mop, Clean oven.
Fri: Ironing, folding towels, children's clothes away.
Adam and Kirstie taught us a lot of things when we couldn't understand grammar, pronunciation or mistaken sentences. They gave us a lot of questions with friendly feeling like "How was your weekend?"etc… they gave a lot of chances to speak English and always listened to my story in English! I thought I didn't want to make mistake my English before I came IWHP but I became to be able to speak English with enjoyment more than before. I'm full of THANKS and LOVE♡
Keiko I from Japan General English 12 weeks and Demi Pair Program