The reason why you went abroad on a working holiday
I couldn't decide my job when I started job hunting.
I wanted time to consider my life,
so I took a year off from university and tried to get a lot of experience.
One of them was to go abroad.
What is it like to live in Australia/ Gold Coast?
Gold Coast was comfortable for me because the city was not too rural and not too urban.
My hostfamily's house was near the ocean.
I often went there to go surfing,to rest and so on.
Sometimes,I enjoyed BBQ by the ocean.
There is rich in nature, but there were some big shopping malls,so it is easy to stay there.
I thought it is good for me to live.
The reason why I chose a Demipair program
At first, I have no money and Demipair is cheaper than the others.
And I wanted to stay with native speakers to improve my English skill.
What was your family like?
They were so kind for me.
They took me to many places(fireworks,a river pool,an amusement park and so on).
It was really fun for me.
And when I made a mistake, my demi-mother said to me "no worries."
It made me feel good.
Also, they were chearful people.
They often held a party with their friends.
I enjoyed a lot of party with them.
Finally,my demi-mother was good at cooking,it made me happy.
Daily work details
Two or three days in a week, I took care of their kid(breakfast,take a shower etc…)and took him to a kindergarten before I went to school.
In the afternoon, I cleaned places my demi-mother told me from Monday to Friday.
Two or three days in a week,after I went home from school, I picked up the kid from the kindergarten.
And I made him go to bed at 7pm.
What was the difficult time of Demi pair?
Sometimes, I misunderstood what demi-mother told me. (ex.I cleaned places she didn't told me)
And it was too difference between Japanese English pronunciation and native English pronunciation.
(I couldn't listen to "McDonald's" at first)
It was hard for me until I got used to listen to them.
In addition, their kid didn't listen to me when he was angry.
I was tired to make him do what I wanted to do.
But my demi-mother was kind,so I didn't feel bad in my demi pair.
One point of advice to everyone who wants to do Demi Pair / Working Holiday in the future.
You should study what you can do in Japan such as vocabulary and grammar. Then,you can concentrate on studying English talking skill in a foreign county.
And you should stay with native speaker.
I asked some native speakers about how to improve my English talking skill.
Everyone said,such as " Just talking."
I think it is important for you to talk with a lot of people.
This is not only for your English skill,but also for your life.
Don't be shy!!
Testimonial of IWHP
The lesson was easier than I expected in the biginner class.
The atmosphere in the class was good because it was easy for us to talk with our teacher. And the speaking lesson in the morning(we must answer one English question)was good for me. I had to consider how to output my opinion.
But in this school,whether we improve our English or not, it depends on our motivation.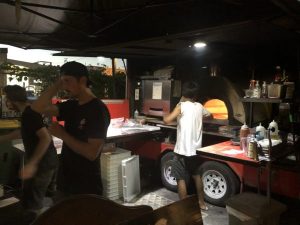 He helped Pizza shop at Miami Marketta until he went back to Japan!
[rara_call_to_action title="Are you interested?" button_text="Contact us" button_url="https://www.iwhp.net/contact-us/" target="_self" button_align="center"]Please feel free to ask more questions![/rara_call_to_action]