關於我們
如果您不知道打工渡假該去哪個國家或者去哪裡進修英文,請參閱我們的網站.
I.W.H.P.是一間小間的語言學校位於澳洲黃金海岸邁阿密,我們的主要目的是希望能幫助想讀英文的學生並提供價格親民的學費.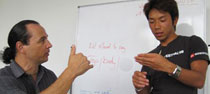 Adam Cole
Direct of Study

---
Hello, Nice to meet you.
My name is Hiroko and I am a Student adviser at I.W.H.P.
I have been living in Australia for 8 years. I came here on a working holiday visa in 2009.
I love travelling but I have always dreamed about living in another country.
I believe that Australia is one of the most beautiful countries in the world and that the culture, nature and character.
I have always wondered what it looks like?
What can I learn?
What the differences between my country and other countries are?
Of course the purpose was studying English.
I'm still learning a lot of things so it never ends.
Learning another language is very useful and fun and I've been able to meet a lot of people because of my English.
Now it is your time to change your life!!
I.W.H.P is always here for you to help living in Australia.
| | |
| --- | --- |
| Company's name | International Working Holiday Program (I.W.H.P) |
| ABN NO. | ABN39 318 806 836 |
| Address | Unit 411,21 sunshine parade,MIAMI,QLD,4220 Australia |
| Tel | (Domestic call)0401050985 (International) +61401050985 |
| Website | www.iwhp.net |
| Facebook | http://www.facebook.com/I.W.H.P.English |
| LINE ID | |
| Office Hour | AM 9:00 – PM 17:00 Local time(Mon – Fri) |