About us
Our English Language school I.W.H.P, which is located on the sunny Gold Coast of Australia.
I.W.H.P (International Working Holiday Program) has been active in the English Language education business since the year 2011.
I.W.H.P focuses on working holiday and tourist students who wish to study the English language on an affordable budget, enjoy some of the sites on the Gold Coast with the school, live with an Australian family as a host, or perhaps try living and working in an Australian household with our Demi Pair program.
Travelling and studying English can be an exciting but sometimes expensive adventure, so we came up with an education program we feel is right for those who wish to enjoy their time living, working and studying English in Australia.
We have tried to create a homely atmosphere where if the student has a problem they can come to us for help or advice.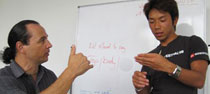 Adam Cole
Direct of Study

---
Hello, Nice to meet you.
My name is Hiroko and I am a Student adviser at I.W.H.P.
I have been living in Australia for 8 years. I came here on a working holiday visa in 2009.
I love travelling but I have always dreamed about living in another country.
I believe that Australia is one of the most beautiful countries in the world and that the culture, nature and character.
I have always wondered what it looks like?
What can I learn?
What the differences between my country and other countries are?
Of course the purpose was studying English.
I'm still learning a lot of things so it never ends.
Learning another language is very useful and fun and I've been able to meet a lot of people because of my English.
No it is your time to change your life!!
I.W.H.P is always here for you to help living in Australia.
| | |
| --- | --- |
| Company's name | International Working Holiday Program (I.W.H.P) |
| ABN NO. | ABN39 318 806 836 |
| Address | Varsity Lakes Gold Coast Australia |
| Tel | (Domestic call)0401050985 (International) +61401050985 |
| Website | www.iwhp.net |
| Facebook | http://www.facebook.com/I.W.H.P.English |
| LINE ID | |
| Office Hour | AM 9:00 – PM 17:00 Local time(Mon – Fri) |
| | |